About Us
Aura Beauty Salon reveres beauty in every function and form, our delightful beauty treatments are set to enhance your femininity with superior expertise and technical excellence - to bring your body back to nirvana.
Our team of enthusiastic and experienced beauticians appreciates all taste and budgets and are at your attention for all your beauty and wellness essentials.
From glamorous cocktail party look to casual everyday indulgence, bridal make up to hair styling, face and body care, beauty and wellness and much more walk into Aura, and get introduced to a more beautiful you!
Aura – Exclusive Ladies Salon, is an epitome of all things beautiful, head to toe.

Vision
" To bring smile, happiness & self-confidence in every woman's life by applying a touch of beauty & wellness "
Mission
"At Aura Beauty Salon we are dedicated to provide a delightful salon experience to our each and every guest through exceptional customer service, professional workmanship, technical excellence, finest quality products and passion to go extra mile for building a long-lasting relationship of trust and commitment."
Ms Neeta Yadav - Founder & CEO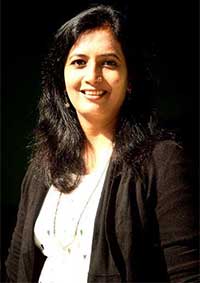 Backed by strong in-depth industry expertise with a professional qualified degree in Beauty, Hair & Spa Treatments from Bangkok, Thailand, in addition to rich 20 + years of international salon experience , Aura Beauty Salon is the brainchild of Neeta Yadav with a thought " to make every woman feel special because she deserves to be special ". A core entrepreneur with expertise in wellness industry , Neeta has been instrumental in building next generation of beauticians by imparting training, knowledge & career counselling at her beauty academy with a goal to give society the finest artisans in world of beauty & wellness. Ms. Neeta's next journey begins with launch of Aura Personal Care Products, the exclusive & premium hand created DIY facial kits to make a real difference for today's woman.