At Aura, we believe in giving our customers every reason to revisit us. That's why we have amazing beauty deals each month to delight customers with an exemplary head-to-toe salon experience.
Enjoy our #SummerSpecial #BeautyOffers ! So, what are you waiting Come Enjoy the Joy of #BeBeautiful !
To Book Appointment Call 966 414 3366

Deal 1
#Keratin Hair Treatment (Mid-Length)
Just Rs.1999
Say Goodbye to Frizzy , Dry and Damaged Hair !
Keratin treatment helps protect your hair by filling in the porosity of your hair, as overly-porous hair causes tangles, frizz, damages and breakages. The Keratin treatment brings the the much needed protein back into the hair and gives you a smooth and shiny hair. The Process take apprx. 90 Minutes . The treatment last for apprx. 3 Months. If you usually style your hair straight the Keratin hair Straightening Treatment helps reduce your blow dry time by 40%-60% .Caring Tips – After Treatment Wash your hair after 1 day . Use Sodium Sulphate Free shampoo to maintain treatment .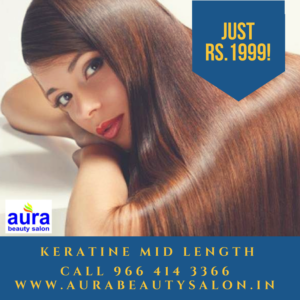 Deal 2
#SmartBond Hair Treatment (Mid-Length)
Rs.2500
Aura Introduces #NewHairTreatment!
Now Colour Your Hair Care Free with Smart Bond . Smart Bond helps protect your hair while colouring giving you a strong , smooth , softer and shiny hair. During hair coloring process smart bond is added to your colour and applied as usual color. Unlike normal hair colour process without a smart bond which damage the bonds of your hair the Smart bond enrich the overall finish of the colour as well strengthens the damaged hair .The treatment take 30-40 minutes. It is highly recommended to go for smart bond treatment if you want to colour your hair or even if you want a treatment for frizzy , damaged hair .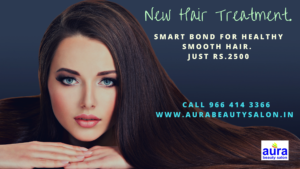 Deal 3
#SummerSpecial Body Polishing
Rs.899
Beat the Heat, Enjoy Aura Summer Season Special Fresh Body Polishing Offer !
Choose your favorite flavor from wide range of flavors – Chocolate / Aroma Gel / Summer Salt / Skin whitening / Wine.
Body Polishing is a spa treatment which helps exfoliates your skin by removing dead cells in your body and remove oil and dirt from your skin thus making your skin feel fresh, smooth, hydrated , moisturized and soft.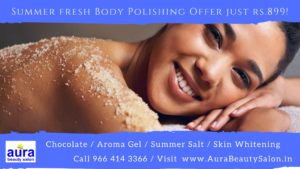 Deal 4
#L'Oreal Extenso Hair Rebonding / Straightening / Smoothing ( Mid-Length )
Only Rs.2999
Want freedom from Messy , Wavy Hair ? Get Yourself a L'Oreal Extenso Hair Rebonding / Straightening / Smoothing Treatment for beautiful smooth , easy to maintain and shiny hair .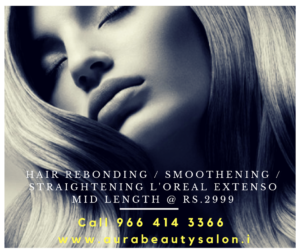 Deal 5
#CharcoalFacial
Rs.899
Enjoy the Latest Facial trend in town-The #CharcoalFacial !
With pollution , dirt ,heat and dust your face pores are clogged with toxins . The latest Charcoal facial helps clear the pores and removes the oil , dirt from your face thus making your complexion more clear . The Charcoal Facial also helps remove acne scars , blemishes and dark spots. So if you are looking for facial go for Charcoal facial .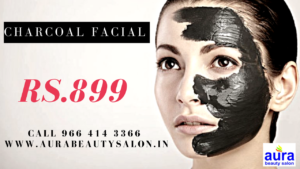 Deal 6
#HairHighlights
Rs.999
#GoColour with Aura Hair Highlights ! Show the world a New You. Indulge in fashion and explore the new colours . Get Yourself 5 Streaks with Power Dose Treatment.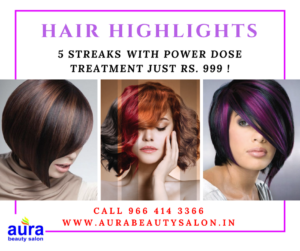 Deal 7
#NailExtension
Rs.999
Let Your Nails Say it All !