Mumbai is known as the city of dreams and women here are extremely fashion conscious and leave no stones upturned in order to look their best always. Thus, the beauty business is on an all time high and the beauty salons compete with each other to grab the attention of the clients. Just so that they have a steady flow of customers and to ensure that their customers remain loyal to them most beauty salons in Mumbai offer attractive beauty deals to the customers.
These deals could be anything from a combo deal which comprises of two or more services in a package at a discounted price or a deal on some kind of treatment at slashed down prices. The package deals might include general wellness procedures like waxing, threading, head massage, hair spa, facial etc.
Most of the time the customers who avail these deals are not satisfied with the quality of the service or qualities of the products used and are disappointed. But there are some beauty salons that promise the best beauty deals and provide the best services to their customers.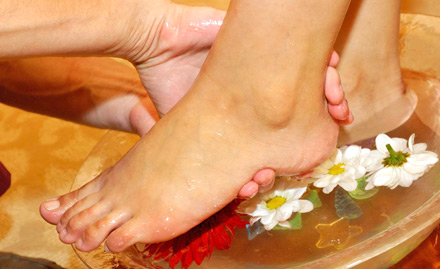 Aura Beauty Salon at Malad West is one such salon in Mumbai that offers some of the best beauty deals. A beauty expert points out "Many customers from Lokhandwala, Andheri, Goregaon , Borivali and other places in Mumbai have approached us complaining about the beauty deals offered at various salons and the poor quality service provided. We make sure that the customers who avail the beauty deals in our salon have the best experience so that they come back for more."
Rashmi Desai , a dentist from Borivali recounts her experience, "I came across a great beauty deal at a well known salon in Goregaon where they promised all the wellness treatments like facial, pedicure, manicure, bleaching, waxing and hair care at a very nominal price. I went ahead and booked an appointment for the complete deal but the service provided was very mediocre and the products were also not good. My skin broke out into pimples after the facial. This made me very apprehensive about going for these beauty deals again. One of my friends referred me to Aura. They have some of the best beauty deals in Mumbai and they use branded products in their treatments. I was very satisfied with their services and have further referred many of my friends to Aura".
Ekta Chopra, an film choreographer in Andheri says, "I used to avail the home beauty services of a salon. Once they came up with a great beauty deal for hair care and I went ahead and booked for the services to avail the deal. I was very disappointed with the products that were used and my hair was completely ripped off the moisture. I then approached the beauty experts at Aura who helped me rectify the problems with my hair. Aura is a very good beauty salon and they come up with some great deals which are value for money."
One of the most popular deals at Aura Beauty Salon is a beauty deal which offers gold facial, French manicure, French pedicure, hair spa and hair cut at a very nominal rate of Rs.499 whereas all these services would otherwise cost a sum total of Rs.2,200. For customers who want to get their mane pampered, Aura offers some really could hair care beauty deals known as L'oreal Hair Spa which uses all the best products by L'oreal and includes hair shampoo, hair massage for 15 minutes, hair steam, hair wash, hair drying and a modern hair cut and this deal can be availed at Rs. 499 when the actual price would be Rs. 1800.

Aura makes use of the best beauty products like Schwarzkopf, L'oreal, Streax, Cheryl etc. and make sure that the customers are rendered the best services and leave their salon feeling happy, relaxed and rejuvenated. In case, you are looking for some great beauty deals in Mumbai, make sure to check out the great deals at Aura Beauty Salon @ Malad West (www.aurabeautysalon.in).